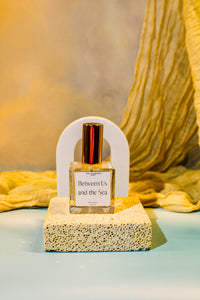 Between Us and the Sea Eau de Parfum
ADVANCED BODY CARE COLLECTION
Let customers speak for us
Sexy, grown, mysterious- LOVE IT!
If you are looking for a new fragrance, one that is perfect for date night or to feel sensual, then this is the one for you. I love how it dries on me, it is not over powering, and just enough floral scent, without feeling tooooo grown?
Dark Rose Eau de Parfum
Dark rose
I love this sent and it goes with my body
Dark Rose Body Creme
Dark Rose Perfume Oil
Nostalgic
This fragrance somehow hits my soul because it reminds of the fragrance samples in magazines. I always preferred them to liquid samples because the of way the fragrance paired with the smell of paper. I don't know how lol. I love how I transported to my pre-teen self. Browsing through magazines at the library fishing for pages with samples.
Earth Angel Enzyme Body Oil
Doll Haus Body Serum
Beautiful, subtle and long lasting
I wasn't sure if I'd like the scent, but I was very pleasantly surprised. It is subtle but lasts. Will definitely purchase again.
Eat the Cake Perfumed Body Oil
Smells amazing
The oil smells amazing and easy to travel with so I can reapply(but I don't have to bc I layer with body oil and cream).
Summer Santal Perfume Oil
Summer Santal Shower Gel
Route Package Protection
Eat the Cake Perfumed Body Oil
Great scent and great suds
Summer Santal is one of my favorite scents. This shower gel lathers well and helps with layering the fragrance. It suds which I prefer but doesn't strip the skin. Make sure to use the body cream and body or fragrance oil afterwards. Trust me, it's delicious.
Summer Santal Shower Gel
Spring Fling Perfume Oil
Mermaids are Real Perfume Oil
Mermaids are Real Perfume Oil
Justice for The Body Shimmer
The scent is just as yummy as the perfume oil and although the consistency of the shimmer threw me off upon trying it, it's the perfect base to make sure the shimmer stays put. Gorgeous shimmer or stunning scent? You can have both — meet in the middle, dance all night.
Disco Honey Body Shimmer
It's Pure!
If you want to smell like a sexy drop of boozy honey —add it to your cart now. It's a very sultry scent that will grab the attention of him, her, and them…heads will turn when you walk by.
Disco Honey Perfume Oil